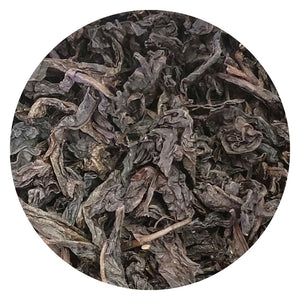 Description:
Wuyi Oolong tea is heavily oxidized with a natural nutty flavor and mild smokiness. This organic loose-leaf oolong brews a delightfully smooth cup, can be re-steeped 1 - 2 times, and is delicious hot or iced.
Ingredients:
Organic Oolong tea leaves (Contains Caffeine)
Brewing Instructions
Each tea is unique and can be brewed differently according to personal preference.  We provide brewing instructions as a starting point, but we encourage you to experiment with each tea and find the quantity, steep time, and number of infusions that works for you.  
Temperature: 190°  Quantity: 1 - 2 tsp  Time: 3 - 4 minutes 
Approximately 15 servings per 0.8 ounce pouch.  (And each serving can be re-steeped 3 - 4 times.)