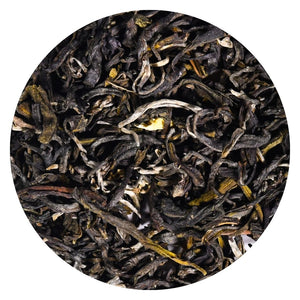 Description:
This organic Vietnamese green tea blended with jasmine blossoms creates a pleasantly sweet, aromatic, and fuller-bodied green tea.
Ingredients: 
Organic green tea leaves and organic jasmine petals
Brewing Instructions
Each tea is unique and can be brewed differently according to personal preference.  We provide brewing instructions as a starting point, but we encourage you to experiment with each tea and find the quantity, steep time, and number of infusions that work for you.  
Temperature: 175°  Quantity: 1 tsp  Time: 1 - 3 minutes 
Approximately 15 servings per 1-ounce pouch.  (And each serving can be re-steeped 2 - 3 times.)
My favorite!
I'm pretty sure I have had this tea everyday for the past few years?! I love it! The smell and taste is magical. The jasmine green is grounding, relaxing, and energizing all at the same time.
Jasmine Green
Like every other tea in have gotten from Cultivate, this is so flavorful and pure. I just love it!