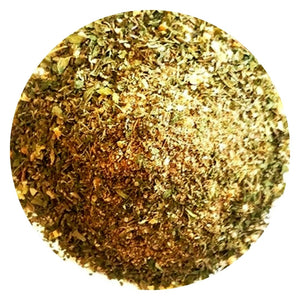 This zesty blend is a great all purpose seasoning, so try with any recipe that needs a little extra flavor!  You can also mix with sour cream for a ranch style dip, or combine 1-2 tablespoon of mix with one cup mayonnaise or yogurt and one cup buttermilk for a homemade ranch dressing.  
2 oz. Net Weight Pouch
Ingredients
Organic parsley, sea salt, organic celery salt, organic dill weed, organic thyme, organic onion powder, organic minced onion, organic garlic powder, organic ground black pepper, organic smoked paprika and organic mustard powder.
A must have blend for your spice drawer
I was looking for the perfect "soup spice" and also something I could use as a "put on anything to make it more delicious" spice & Jon nailed it! Made chili & then a few nights late broccoli & cheddar soup...it worked wonders for both. An all around blend to add to everything to step it up in flavor. Still haven't used it to make actual ranch yet, but at this point it's safe to say it's going to be a delicious.