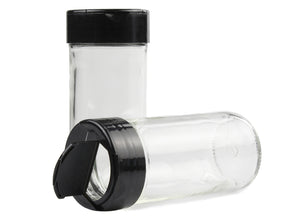 Glass Shaker Jar
This glass shaker jar is perfect for your favorite everyday spices.  It is considered a 4 oz jar, however this is referring to liquid ounces, therefore the amount of herbs, spices, or salt that you can fit in the jar can vary greatly based on the ingredients.  For example, this jar can hold 0.7 oz of dried Basil, but holds 4.5 oz of a heavier ingredient like fine-ground Himalayan Pink Salt.
Organize your spice rack and customize your pantry by purchasing our labels that are sized perfectly for this jar and have blank spaces for you to write the name of your herbs, spice, or specific culinary spice blend.
Click link below to view and purchase the blank spice jar labels.