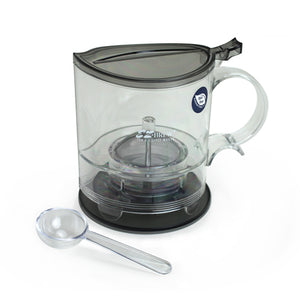 One of our favorite non-traditional methods for brewing tea.  Many of our wholesale partners use this convenient system in their cafes for brewing hot tea for customers, as well as brewing a quick tea concentrate for shaken iced teas.  
BPA-FREE and Dishwasher Safe
Directions:
1. Lift the lid and add 1 - 2 scoops of loose-leaf tea using the scoop that is included.
2.  Pour hot water over the tea and let it steep for the recommended steep time indicated on each tea package.
3.  Once steeped, rest brewer on top of your cup or vessel and tea will automatically strain and pour from the bottom, leaving brewed leaves in the EZ-Brew . 
4.  Enjoy!
*Feel free to brew our tea more than once.  When you are finished dispose the spent leaves (we recommend adding them to your compost if you have one) and rinse out your brewer.

Ships within 10 business days.