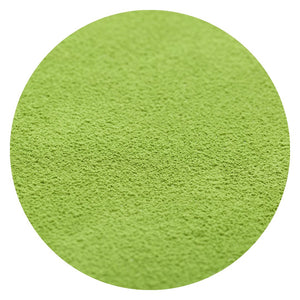 Description:
Our Tea Masters Blend Matcha is our most superior offering made up of the highest-ranked matcha from various farms in the Uji region of Japan.  Top-quality matcha is shade-grown for several weeks before harvest, which increases many of the favorable attributes of green tea.  After the shade-growing period, only the youngest, most nutrient-dense leaves are hand-picked from this first spring harvest.  The tea leaves are then steamed to prevent oxidation, then the stems and large veins are removed before the tea is dried and stone-ground into an ultra-fine powder.  For this blend, a highly experienced tea master selects the best organic matcha from the region and masterfully blends in specific ratios resulting in a top quality, extra smooth ceremonial-grade matcha, perfect for the traditional bowl of matcha while also making excellent matcha lattes.
Organic shade-grown matcha is considered a superfood, rich in antioxidants, polyphenols, a range of beneficial vitamins and minerals, as well as the combination of caffeine and l-theanine that results in a focused and relaxed alertness.  Matcha will give you a more balanced and jitter-free energy boost throughout the day, without a peak and crash commonly experienced with coffee.
Whisk in hot water for a traditional cup, add frothed milk for a matcha latte, add to smoothies, or get creative with drinks like matcha lemonade and matcha soda.  Matcha can also be shaken vigorously in a bottle of cold water for a quick nutritious energy boosting beverage.
Makes approximately 40 servings.
Ingredients
Organic Green Tea Powder 
Brewing Instructions
Each tea is unique and can be brewed differently according to personal preference. We provide brewing instructions as a starting point, but we encourage you to experiment with each tea and find the quantity, steep time, and number of infusions that works for you.  
1.  Add1 tsp matcha powder into a bowl or cup.
2.  Add 3-4 oz 175 degree (not boiling) water.
3.  Whisk in a zig zag motion until well mixed and light froth forms.
4.  Enjoy as is or add hot water or steamed milk to taste.
Storage
Keep tightly sealed in a cool, dry location.  Can be stored in the refrigerator to preserve freshness, as long as it is tightly sealed to avoid absorption of moisture.