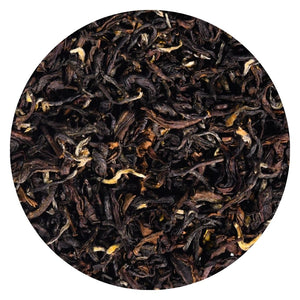 Kali Cha is one of the first authentic oolongs from India.  It is roasted at high temperatures for short periods and rolled between roasting creating a smooth flavor with aromas of cocoa and peanut shells.  Enjoy it's crisp, clean flavor hot or iced!
Ingredients:
Organic oolong tea leaves
Brewing Instructions
Each tea is unique and can be brewed differently according to personal preference.  We provide brewing instructions as a starting point, but we encourage you to experiment with each tea and find the quantity, steep time, and number of infusions that works for you.  
Temperature: 180°  Quantity: 1- 2 tsp  Time: 3 - 4 minutes 
Approximately 15 servings per 0.8 ounce pouch.  (And each serving can be re-steeped 3 - 4 times.)
The best dang milk tea
I brought this tea with me to a beach vacation and with only one teabag, filled with about two tablespoons of kali cha oolong leaves, I made tea four or five times. Each cup was strong and full of flavor, perfect for milk tea. I will drink this beautiful blend for as long as Cultivate will sell it to me. :)
So Amazing
I love this tea. It's so smooth and simple and just utterly amazing. I would definitely recommend.