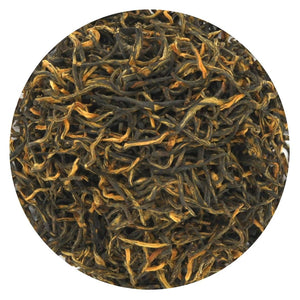 Golden Monkey tea is also known as "Panyong Wang," the king of high grade black teas. The tea term "Monkey" in China refers to the fuzzy golden down on the leaves. The golden down provides texture and smoothness to the brew.
Only certain tea plant varietals can produce golden colored tip leaves. The golden color emerges during processing after an accurate withering (moisture drying of the leaves). Few areas in Fujian contain this type of tea plants. Other areas known to have golden tipped varietals are Yunnan and Hunan provinces in China, and Assam in India.
The flavor of Golden Monkey is uplifting and full-bodied brew with a honey-like sweetness and a very pleasant, toasty aftertaste.
Ingredients:
Organic black tea leaves
Brewing Instructions
Each tea is unique and can be brewed differently according to personal preference.  We provide brewing instructions as a starting point, but we encourage you to experiment with each tea and find the quantity, steep time, and number of infusions that works for you.  
Temperature: 190°  Quantity: 1 - 2 tsp  Time: 3 - 4 minutes 
Approximately 10 -12 servings per 0.6 ounce pouch.  (And each serving can be re-steeped 2 - 3 times.)