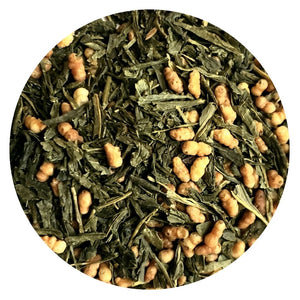 Genmaicha is a blend of Sencha Green Tea and Toasted Brown Rice and is a traditional favorite in Japan. This tea combines the bright grassy notes of our organic Japanese Sencha tea balanced with the sweet roasted flavor and aroma of toasted brown rice. With a little honey and milk, you may think you just finished a bowl of a popular children's cereal!
Ingredients
Organic green tea leaves and toasted organic brown rice
Brewing Instructions
Each tea is unique and can be brewed differently according to personal preference.  We provide brewing instructions as a starting point, but we encourage you to experiment with each tea and find the quantity, steep time, and number of infusions that works for you.  
Temperature: 175°  Quantity: 1 - 2 tsp  Time: 2 - 3 minutes 
Approximately 10 -15 servings per 0.8 ounce pouch.  (And each serving can be re-steeped 2 - 3 times.)