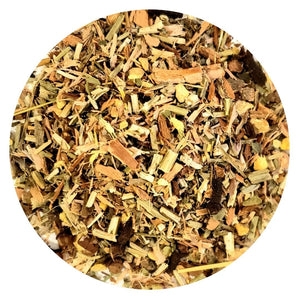 Description:
Nature's healing and restorative blends of certified organic herbs are lovingly hand-crafted in small batches for quality and freshness. Cultivate Wellness teas such as Headache Relief are made to increase the absorption of highly beneficial nutrients for a cleaner and happier life. Cultivate Headache Relief consists of botanical ingredients that can reduce discomfort, specifically that caused by headaches and migraines. Cheers to your health!
All Organic Ingredients:
White willow bark*, wood betony, ginger root, and clove.
(Naturally Caffeine Free)
*White willow bark may cause an allergic reaction in people with an aspirin allergy.
Brewing Instructions
Steep 1 - 2 tsp at 200 degrees for 5 - 10 minutes
*These statements have not been evaluated by the Food and Drug Administration. This product is not intended to diagnose, treat, cure or prevent disease. Consult with your Healthcare practitioner before using this product if you are pregnant or lactating or if you have any health conditions.
Great headache treatment
I suffer for occasional headaches and I rely on this tea for relief and it tastes good too